Family Camping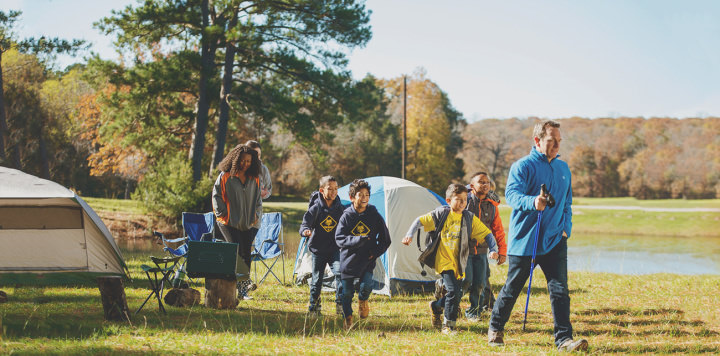 Family camping is an outdoor experience, other than resident camping, that involves Cub Scouting, Scouts BSA, Sea Scouting, or Venturing program elements in overnight settings with two or more family members, including at least one BSA member of that family. Parents are responsible for the supervision of their children, and Youth Protection policies apply.
Last Frontier Council offers three Council- Organized Family Camps each year. Spring Family Camp at JNSR, Fall Family Camp at JNSR, and Fall Family Adventures at Camp George Thomas.
Recreational Family Camping
Recreational family camping occurs when Scouting families camp as a family unit outside of an organized program. It is a nonstructured camping experience, but is conducted within a Scouting framework on local council-owned or -managed property. Local councils may have family camping grounds available for rent. Other resources may include equipment, information, and training.
Reference: Cub Scout Outdoor Program Guidelines, No. 510-631
Council-Organized Family Camp
Council-organized family camps are overnight events involving more than one pack. The local council provides all of the elements of the outdoor experience, such as staffing, food service, housing, and program. These are often referred to as parent/pal or adventure weekends. Council-organized family camps should be conducted by trained leaders at sites approved by the local council. Each youth member will be under the supervision of a parent or legal guardian.

In special circumstances, a Cub Scout whose parent or legal guardian is not able to attend an overnight camping trip may participate under the supervision of another registered adult member of the BSA who is a parent of a Cub Scout who is also attending. The unit leader and a parent or legal guardian must agree to the arrangement, and all Youth Protection policies apply. At no time may another adult accept responsibility for more than one additional "non-family member" youth.

Overnight activities involving more than one pack must be approved by the council. Council-organized family camps must be conducted in accordance with established standards.
| File Name | Description | |
| --- | --- | --- |
| Spring Family Camp at JNSR Parent Guide 20200207.pdf | | Download |
UA-179309896-1