Scouting C.A.R.E.S. Card Sale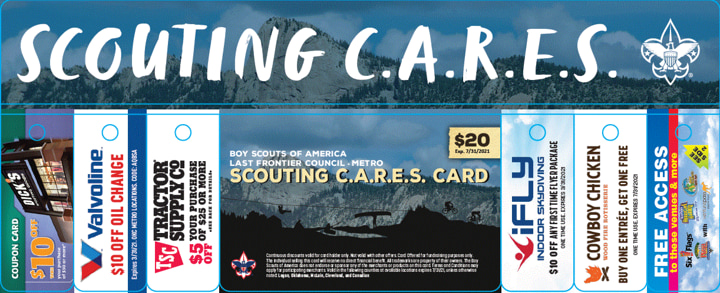 The Scouting CARES Card will maximize your fundraising efforts and minimize risk by offering a flexible way to sell smart by using Show N Sell or Door to Door techniques. So, keep booking your Show N Sell locations. PLUS, units will receive 50% commission on cards sold. That is 17% more on average than a traditional popcorn Show N Sell. The CARES Card will contain discounts to many local businesses, and will be sold as a way to do our part to support these businesses at a time when many have been hit so hard during the COVID-19 pandemic while also providing much needed funds for our Scouting Programs! This is a way to help you meet your financial goals with less effort!
Reasons why the Scouting CARES Card will benefit your unit:
Help your unit reach its financial goals during uncertain times
Create a product that is more flexible and can be sold by Show N Sell or quickly shifted to other means of selling
Product is guaranteed to be available
Reduce the liability and risk of having a surplus of unsold popcorn
The sale begins on August 1 so don't miss out, Register Now by clicking this link: CARE Card Registration
Thank you for your excitement and willingness to make this a successful sale for our Scouts!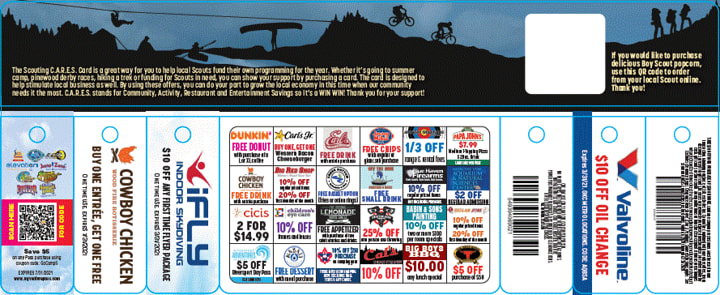 | File Name | Description | |
| --- | --- | --- |
| 2020 LFC Show N Sell Guidelines | Guidelines and rules for the Last Frontier Council Show N Sell. Applies to the Scouting CARES Card in 2020. | Download |
| 2020 Scouting C.A.R.E.S. Card Leader's Guide | | Download |
| 2020 Scouting CARES Card Images | | Download |
| CARES Card SNS Location Confirmation Form | | Download |
| Fall Product Sale Budgeting Tool | | Download |
| Fall Product Sale Permission Slip | | Download |
| Unit Card Tracking Spreadsheet | | Download |
UA-179309896-1