Distinguished Citizen Award Presentation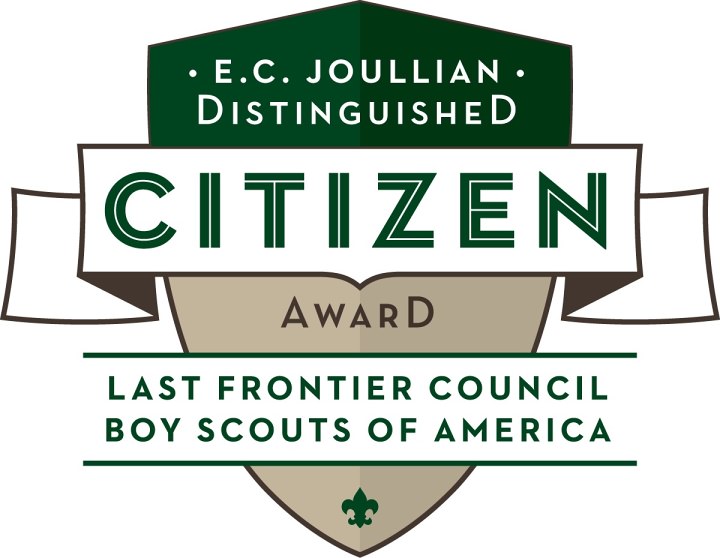 Date/Time:
Sep 1, 2020 7:00 pm to 7:45 pm
Location:
Virtual Event
https://sites.google.com/coryav.com/dcd
Oklahoma City, OK 73116
Location Phone: 405-840-1114

The Last Frontier Council, Boy Scouts of America, honors
EDMUND O. MARTIN
as the 2020 E.C. Joullian Distinguished Citizen
---
This was a Video Presentation. Click this link to view the recording of the event: https://sites.google.com/coryav.com/dcd
---
View the comments and photos from the video presentation.
---
Download the printed Program here. (3.9 MB .pdf)
---
David Rainbolt, Co-Chairman
David Thompson, Co-Chairman
Clay Bennett
Dan Boren
Mike Brown
Luke Corbett
John deSteiguer
Bill Durrett
Christy Everest
Dave Hager
John Higginbotham
Bill Lance
Tom McDaniel
Jim Morris
Lee Allan Smith
Sean Trauschke
Blake Wade
Bill Winkler
SPONSORSHIP LEVELS
---
---
PRESENTED BY
The Chickasaw Nation
E L & Thelma Gaylord Foundation
Herman Meinders
Mustang Fuel Corporation
Richard L. Sias
JOULLIAN CIRCLE SPONSORS
Ackerman McQueen
American Fidelity Foundation
BancFirst
Devon Energy Corporation
Jim and Christy Everest
Josephine Freede
Larry and Polly Nichols
PRESIDENT'S CIRCLE SPONSORS
Bank of Oklahoma
Clay and Louise Bennett
Luke and Becky Corbett
Cox Communications
First National Bank of Oklahoma
Dave and Alice Hager
Russ Harrison
INTEGRIS
Kirkpatrick Family Fund
Love's Country Stores Inc
McAfee and Taft
OGE Energy Corporation Foundation Inc
Presbyterian Health Foundation
Dennis Reid Family
Ugly Mugz
Glenna & Richard Tanenbaum
University of Central Oklahoma Foundation
CHAIRMAN'S CIRCLE SPONSORS
AAS Environmental
Bank of America
Michael Brown
Robert and Karen Browne
Continental Resources
Sean S. Cummings
First United Bank
Foundation Management Inc.
Fred Jones Family Foundation
Gerald and Jane Gamble
Clifford Hudson
Inasmuch Foundation
Marshall Environmental Management Inc.
Steve Mason
Lou and Jim Morris
Jeaneen Naifeh
Oklahoma Blood Institute
Oklahoma City Thunder Basketball
Oklahoma Christian University
Oklahoma State Fair
Shawnee Milling Company
Simmons Bank / Shockley Consulting
Steve and Linda Slawson
Turner Oil & Gas Properties
Ugly Mugz
Vox Printing
Bill Winkler
View all sponsors and individual contributors on our SPONSORS page.
---
Staff Contacts:
UA-179309896-1